Whether you are looking for a full outdoor living space, a relaxing patio, or natural stone staircase, our team is here to create a landscape that reflects your identity. Allow us to meet with you, listen, and interpret your personal style. Our team of designers and horticulturists are here to ensure that as life progresses, gardens expand, and locations change, your design will thrive with a graceful maturity.
Our Services Include:
Outdoor Living Spaces
An outdoor living space should be an extension of your home. We are passionate about creating a space that you will enjoy for many years to come. Relax by an outdoor fire pit, prepare a meal for your guests with one of our custom built-in kitchen and grilling areas, or just simply sit back and enjoy time with your family.
Justin's Designer Note: I love creating spaces that make people feel good. I can visualize you sitting by an open fire, reading a book in a hidden shady spot, or enjoying a grilled pizza. Part of the designing involves me imagining that space during the day time as well as how the light changes it when night falls on your house, the trees, and other elements in your landscape.
Retaining Walls
A proper retaining wall is the foundation of any good landscape design. Soil conditions, water runoff, and aesthetic value are all important characteristics of a good retaining wall design. From consultation to design and installation, we can help you create a retaining wall that not only compliments your home, but stands the test of time.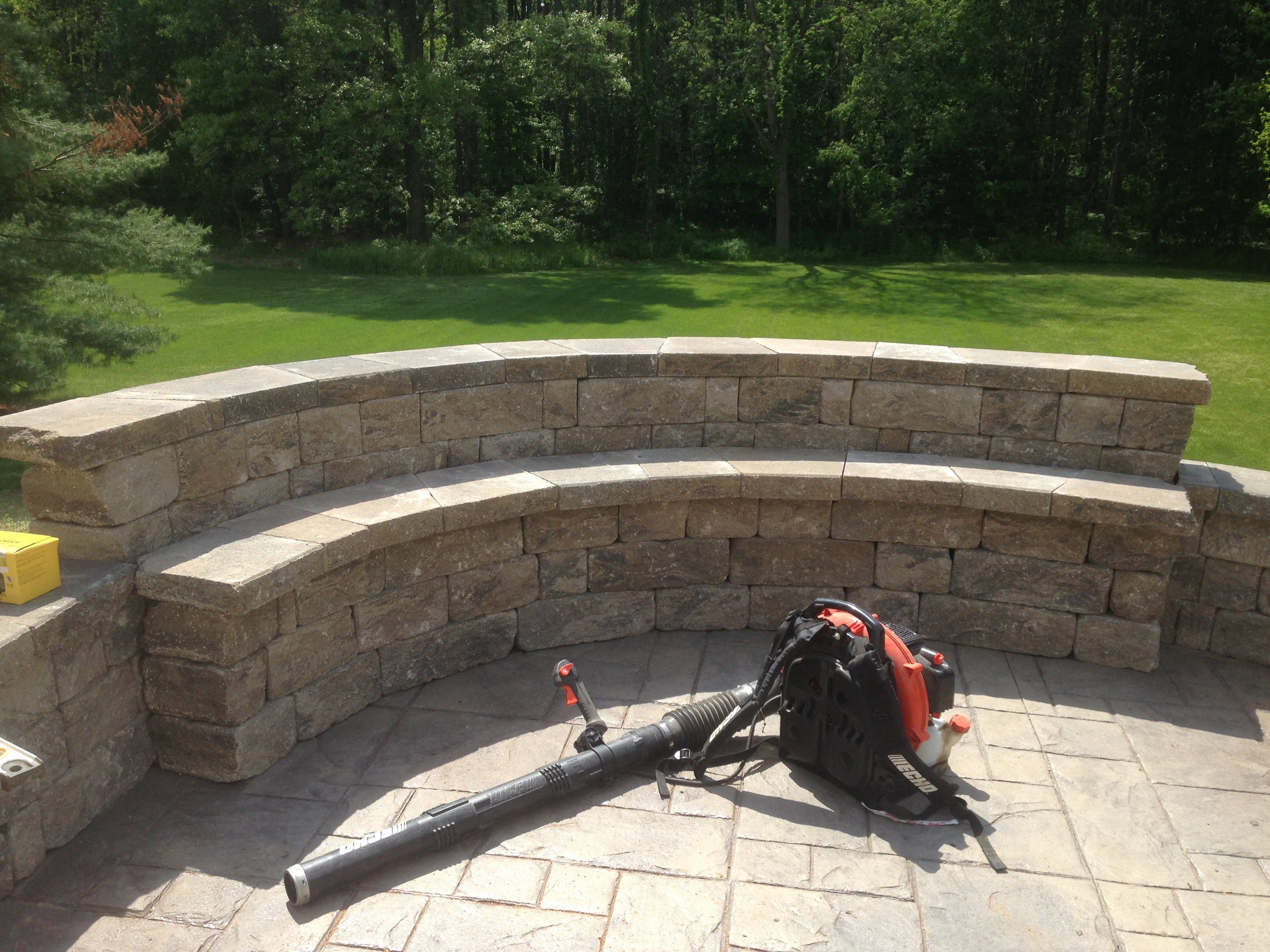 Justin's Designer Note: I love the look of natural stone - especially native Michigan boulders. Stacked ledge-stone is also a great stone to work with, and I tend to incorporate that with the Michigan boulders to create a timeless design.
Natural Stone & Brick Patios
Whether it's flagstone,brick, or stamped concrete, a patio can complete the look of your home and outdoor living space. Flagstone gives a more rustic, weathered look while brick and concrete create a classic warm feel.
Justin's Designer Note: I love the challenge of a flagstone patio and getting all the tiny pieces set to compliment each other, but determining the end result is really one of my favorite parts of the design process. Being able to visualize a complete patio full of friends and family enjoying themselves gives me great pleasure.
Walkways & Steps
Having good access points throughout your landscape is critical to the overall design and usability of your landscape. We offer a great mix of materials when it comes to walkways and steps such as, natural stone, flagstone, brick, stamped concrete, and wood.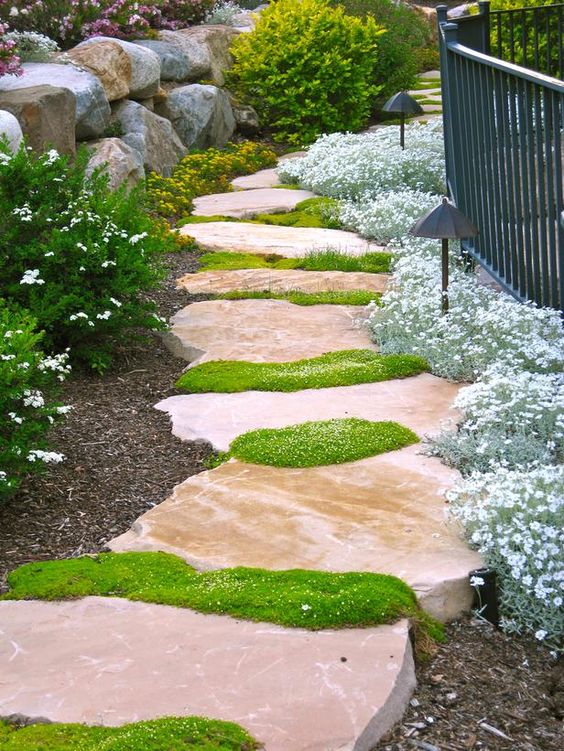 Justin's Designer Note: One of my favorite materials to use for staircases is the natural ledge-stone stacked step. They are heavy, sturdy, and add a timeless feature to your landscape. I also love to create "planting pockets" along these steps, which give me a great area to plant ground cover and dwarf grasses.
Annual - Perennial Bed Installation & Maintenance
Let our team take care of the dirty work when it comes to maintaining your annual and perennial bed. We offer clean-up and mulch in the springtime, summer fertilizing and deadheading, and fall maintenance for all of your beds.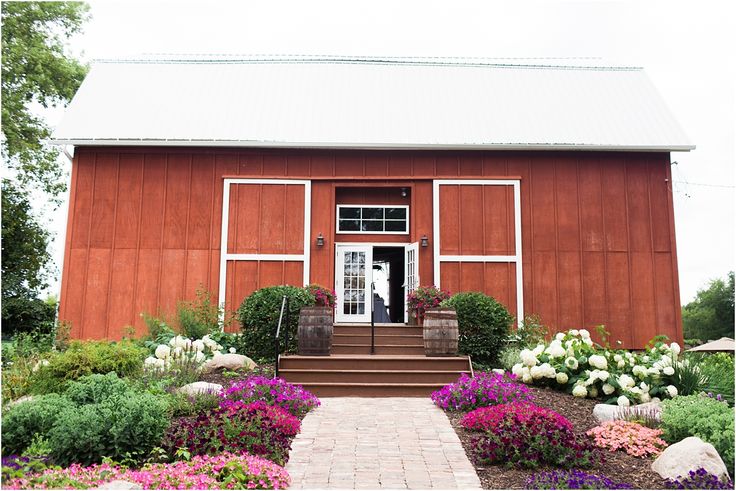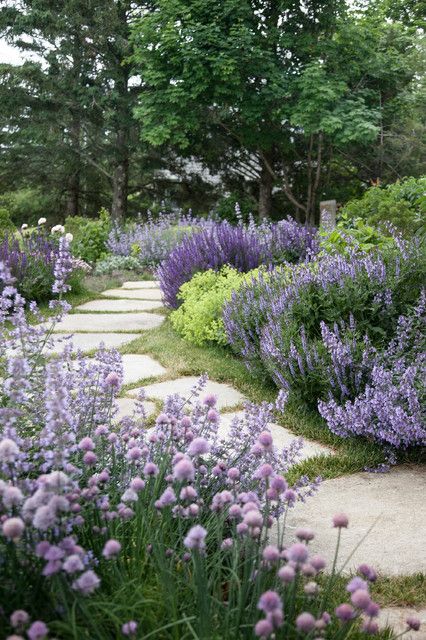 Justin's Designer Note: There is nothing more beautiful or welcoming than a well maintained annual or perennial garden. Our team loves color and we are not afraid to get creative with the thousands of combinations of plant materials available to us!
Container Garden Care
A beautiful seasonal planter pot can add so much charm to you home. From Tulips in the spring to fresh evergreens in the winter, our team can create and maintain your planters throughout the season. Weekly or monthly visits to your home or office is a great way for our team to maintain your beautiful planter-pots. We take care of everything from fertilizing to deadheading.
Justin's Designer Note: Our team is very creative when it comes to planter pots and we seasonally source everything right here from the farm! In spring it's a mix of Tulips, Daffodils, and Birch twigs. Summer allows us the use of Hydrangea, Boxwood, and Ornamental grasses. Fall is a mix of dried Hydrangea, Mums, and Sedum. Winter is especially fun with fresh Spruce, Pine, Hemlock, Red Twig Dogwood, and Juniper.